Pet Adoption Alternative of Warren (PAAWarren) is an independent, non-profit 501(C)(3), completely volunteer-run, foster-based animal rescue organization. These animals can't make it without our help and we can't do it without yours. Get Involved! Follow us on Social Media, share our posts of adoptable pets, volunteer, foster and please donate. Click here for other ways you can help.
Reduced Adoption Fee of $75.
Please consider adopting an FIV Kitty! FIV cats can live 15 years or more with FIV and can even live with non-FIV cats.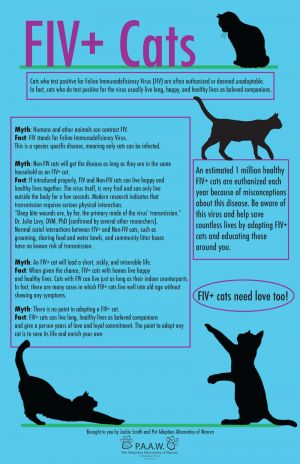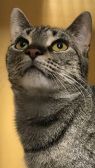 Meet sweetheart Daisy Sweets! She is very outgoing, friendly and loves to have your attention! This pretty girl has already had a litter of kittens and fulfilled her "momma" duties and is ready for a great home. Daisy is very sleek and slender and is listed as "special needs" because she did test positive for FIV. Please do not let that hinder your ability to love her and own her as a pet! FIV+ cats are no different from other kitties except for their immunodeficiency. Often they show no signs at all. Daisy is thriving in foster care and is happy, loving and very sweet. She would make a wonderful companion! Please consider giving her a forever home. Estimated Birthday 2014 If you would like to set up a meet and greet, please complete our online adoption application form on our website: www.paawarren.org. She is not currently staying at the Meowtown/Pet Valu West Bloomfield location, however her foster mom is available most nights and weekends to meet in this location for a meet and greet. Adoption fee includes feluk/fiv combo test, current vaccines, spay/neuter, and microchip! FIV+ cats need love too! FIV is species specific, meaning only cats can be infected. FIV+ cats can live just as long as Non-FIV cats. If introduced properly, FIV and Non-FIV cats can live happy and healthy lives together. The virus is very frail and can only live outside the body for a few seconds, and requires serious physical interaction, like deep bite wounds. Normal social interactions, such as grooming, sharing food and water bowls and litter boxes have no known risk of transmission. The special adoption fee of $49 can give you and the cat years of love and companionship.
Adult, Female, Medium
Domestic Short Hair
Spayed/Neutered
Spayed/Neutered
Up-to-date with routine shots

Petfinder is down at the moment. Please check back shortly.
Error Code returned: 201