Adopt a Pet
Senior Pets
Our "Senior" pets need special homes and more love and attention than other pets.
If you ready to open your heart and home to a Senior pet and are confident that you will be able to give the pet the extra love and attention they require, please jot down the name of the pet and contact us by telephone at 586-825-3350 or visit our Contact Us page to send an email.
If you are interested in a adopting any of the pets we have available, you must complete our online Adoption Application Form.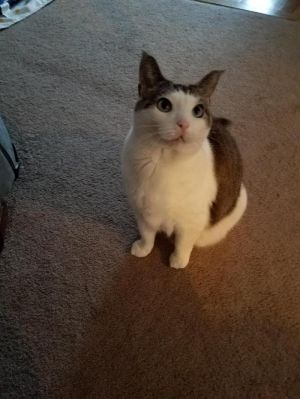 Meet CHEWIE :). A Little About Me: Chewie is a loving cat who loves attention, and will follow you around. She loves to come by and rub against your legs or she'll paw you as you walk by to say, hey hello pet me! She responds well to a tongue click noise to come and will even give you kisses if you ask. Very happy cat with a big heart full of love, take me home today! She is always there for you when you're sad, and will come running if she hears you cry or feels you need her. She needs someone to love her back just as much. Chewie eats dry food and is potty trained for a litterbox. Chewie doesn't like treats or wet food, but has been known to steal a goldfish or a crumb of graham crackers. Even now, she can still be a playful cat, and loves string toys or anything that drags on the ground. Chewie needs a new home and a new person to love, great with kids, men and women. However, she doesn't like other cats or dogs. Will you be her new home? I am a Small Brown and White Affectionate Female Domestic Shorthair I am good with Kids. I am good with kids of the age(s): Baby, Toddler, Pre-Teen, Teen. I like to be petted. My approximate birth date is 11 years old. I am house broken. I like these toys: Balls, Squeeky, Furry, Rope. I have a high prey drive. I am currently living at Foster Care. CHEWIE 🙂 was spayed when received. I had the following training: Litter box trained Currently, I am not shown anywhere. If you would like to see me, call the number on the PAAW Home page to make an appointment. If you would like to set up a meet and greet, please complete our online adoption application form on our website: www.paawarren.org Adoption fee includes feluk/fiv combo test, current vaccines, spay/neuter, and microchip! The special adoption fee is $75 for this sweet senior girl.
Senior, Female, Small
Domestic Short Hair
Up-to-date with routine shots
Spayed/Neutered