Adopt a Pet
Long-Timers
Our "Long-Timers" are pets that have been with us for a long time and very much need to find forever homes.
Dogs – Adoption Special – $100 Adoption Fee
Cats – Adoption Special – $75 Adoption Fee
Some of the reasons why animals become long-timers is because of either special needs, such as FIV positive on cats, or for things like being scared at the adoption shows because it's an unfamiliar environment, so they get nervous and hide in a corner, etc. Once in a home, where they are comfortable, they are wonderful cats that are very happy and social, they are just scared sometimes when meeting new people so they don't show well at the store.
For dogs, it's usually for things like being nervous in a cage at the adoption shows, needing additional training, or being nervous meeting new people. But again, they are fine in their new home once they know their new family, it just takes them a little longer to warm up to people sometimes because they are scared in the store environment meeting people they don't know.
Please open your heart and home to one of these animals. Please jot down the name of the pet and contact us by telephone at 586-825-3350 or visit our Contact Us page to send an email.
If you are interested in a adopting any of the pets we have available, you must complete our online Adoption Application Form.

Petfinder is down at the moment. Please check back shortly.
Error Code returned: 201

Petfinder is down at the moment. Please check back shortly.
Error Code returned: 201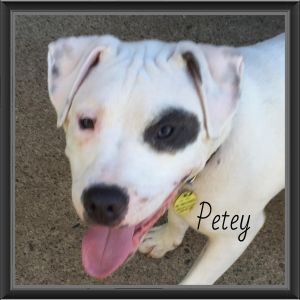 Hi I am Petey VB and I am an American bulldog. I came into the rescue at a few months old and needed emergency surgery. My new foster mom picked me up from the vet and took me home where I had lots of fur friends to hang out with while I healed. At 4 months old I was adopted to a nice family, at this time we learned I can't hear. I have some nervousness with my condition. My new family struggled with my fears so they brought me back to my foster mom. My foster mom has worked with me since then but she understands that I just don't want to be the dog greeting people at the door and that's ok. I am still nervous when I meet someone new but once I relax I am good. I like to meet new dogs ( going to Petco is my favorite) but it's best that I am an only dog in the home and also best that there are no kids under 8. I need to have a privacy fenced yard, just so I have my own safe environment. My mom likes to hug and kiss on me and boy do I like that. I love to go for walks and learn new ticks. I would love a furever home soon, that will understand my special needs. Give me a chance you won't be disappointed! My approximate birth date is 2/1/2015. If you would like to set up a meet and greet, please complete our online adoption application form on our website: www.paawarren.org. The adoption fee includes heartworm test, current vaccines, spay/neuter and microchip! The adoption fee is $150.
Adult, Male, Large
American Bulldog
Spayed/Neutered
Spayed/Neutered
Up-to-date with routine shots

Petfinder is down at the moment. Please check back shortly.
Error Code returned: 201

Petfinder is down at the moment. Please check back shortly.
Error Code returned: 201

Petfinder is down at the moment. Please check back shortly.
Error Code returned: 201

Petfinder is down at the moment. Please check back shortly.
Error Code returned: 201

Petfinder is down at the moment. Please check back shortly.
Error Code returned: 201

Petfinder is down at the moment. Please check back shortly.
Error Code returned: 201

Petfinder is down at the moment. Please check back shortly.
Error Code returned: 201

Petfinder is down at the moment. Please check back shortly.
Error Code returned: 201